Look around Seoul
Capital city of Korea, Over the 10milions people's life goes on here.
Take look around the Seoul
---
Districts of Seoul
The Seoul city covers 0.28% of the entire peninsula (or 0.61% of South Korea), and spans an area 30.30 km north-to-south and 34.78 km west-to-east. The Hangang (River) flows horizontally across Seoul, dividing the city into two sections lying north and south of the river.

There are 25 autonomous "gu" districts in Seoul, divided into 423 administrative "dong" sub-units in Seoul. Each "gu" is a basic local government unit that takes care of it's assigned affairs and autonomous duties. The "gu" provides administrative services that are closely related to the lives of citizens.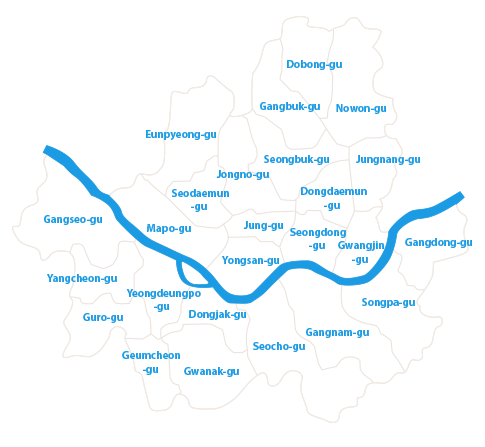 ---
Statistic of Seoul's Population
This figures shows the demographic information fo Seoul. The population of Seoul accounts for over 10.21millions as of Q1. 2017. A density of Seoul is about 17,000 people per square kilometer (45,000/square mile). Relatively with others, Seoul's population density is almost twice that of New York City, four times higher than Los Angeles and eight times higher than the density of Rome. The total number of Seoul's population in the First quarter 2017 is 10,206,972 millions . The particular thing of Seoul's population is that there are more elderly people living in Seoul than the adulescent population with the extent of 99,216
"통계로 본 서울" - 인구
Population(Q3 2017)
10,158,411
Population of the Seniors (Q3 2017)
(Person 65 years old and over)
1,353,486

Population of the Adulescent

(Q3 2017)
( Between Over 15 and 24 ages )
1,198,499
Alimony and Index fo Graying (Q3 2017)
17.7
Migrants by Place of Destination (Oct, 2017)
109,323
Population of the Foreigners (Q3 2017)
266,963
Trends of Households

(2016)


3,665,028

Households

Population of the Births

(Sep

.2017)


​

5,500

The Number of Marriages

(Sep

.2017)


3,700,000

The Number of

Death by Suicide

(2015)


2,261
Source: The Social Maps of Seoul in The Seoul Research Data Service http://data.si.re.kr/eng-seoul-statistical-series
Status of Seoul
This indicates the principal data by selected sectors in Seoul.
서울의 주요 지표 수치"

The Number of the Unemployees _(May.2017)


​

228,000

80.5%

The Number of Hospital Institutions_(2016)

16,896

Gross Regional Development Product(GRDP_2015)
345,138

Billion Won

The Daily Generation of Solid Wastes(2015)
9,438.7 Ton/Day
Street Trees (2016)
306,140
The concentration of Fine Dust(Air Pollution)(Aug. 2017)
21Mg/m3
The Daily Generation of Food Waste(2016)
3,075.0 Ton/Day

The Number of Established Enterprises_(2015)


820,658

Electric Power Consumption by Use _(Sep.2017)
3,998,064MWh
The Rate of Information Disclosure _(2016)


95.22%

Daily Traffic Volume _(June.2016)
​

32,690,000/day

The Length of Bicycle Tracks_(2016)
868.7Km
The Index of Transportation Security_(2015)
79.7
The Number of Daily Commutors by Subway_(2016)
2,856.452 milions
The Number of Foreign Visitors_(June.2017)
991,802
TThe Number of Performance Facilities_(2016)


389

The Number of Public Library_(2016)


147
Source: The Social Maps of Seoul in The Seoul Research Data Service
http://data.si.re.kr/eng-seoul-statistical-series
A day in Seoul(2016)
Births

226 babies

Deaths

119 people

Marriages

157 couples
---
Divorces

49 couples

Movement of Population

5,764 people

Passports Issued

2,860 cases
---
Vehicle Increases

72 Vehicles

Transit

32,410,000trips (2015)

Subway Passengers

7,805,000 people
---
Death in Traffic Accidents

0.95 person

EMS Activity

1,443 cases

Fires

17.6 incidents
---
Electricity Consumed

127,031 MWh

Oil Consumed

135,000 barrel

Domestic Wastes Generated

9,439 tons (2013)
---
Building Permits Granted

39 dongs

Water Supply per Person

303 ℓliters

Liquefied Natural Gas Consumed

11,628,000m2
Source: The Social Maps of Seoul in The Seoul Research Data Service
http://data.si.re.kr/eng-seoul-statistical-series
Seoul Statistical Series_01 Population.pdf
Seoul Statistical Series_02 Economy.pdf
Seoul Statistical Series_03 transportation.pdf
Seoul Statistical Series_04 Housing.pdf