TOPIS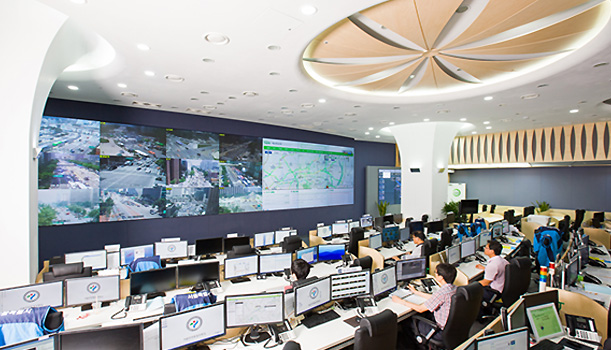 Site Name: Seoul Traffic Information Center (TOPIS) enen
Establishment Year: 2004
Location: Government building 3 basement floors, the fifth floor Jongno Fire
Site Scale: Government building (450 ㎡) Jongno Fire (1,393 ㎡)
Organization : Urban Transportation Division (Traffic Information Centre)
The maximization of road traffic volume efficiency and the optimization of allocated intelligent transportation system chamber construction, which is a combination of transportation technology and state-of-the-art IT.
The guidance of real-time traffic information and bus fleet management, activation of public transportation use, and the promotion of a convenient public transportation system.
The delivery of penalties and the levy of fines imposed by an unmanned surveillance system to traffic law violators
The promotion of traffic-related technological developments regarding the traffic industry such as private opening of public transportation information.
Main Control Room 

Detection of unexpected circumstances monitoring real-time traffic conditions utilizing a 72in dashboard display and 817 CCTV units.
89 works simultaneously in preparation for any traffic situation including condition management, disaster relieve and Chungmugong concurrency management
 

Multi Room 

Structured for briefings and video conferences in the event of an emergency
Daily meetings related to education and external personnel systems such as foreign public officials
Large and well-equipped education facility to accommodate many different events, operating 150-inch dashboard display and seating for up to 70 people
 

Conference Room 

Display room of the various stages in advanced traffic overseas export history and traffic history of Seoul (1960-present)
Exhibition of advanced bus transportation information and guidance machines such as (BIT)
Restroom and space of foreign public officials
Anywhere and at anytime, real-time traffic information can be used to construct the traffic environment with difficulties, utilizing the intelligent transportation system
Performing the role of traffic assistant to Seoul citizens while at the same time promoting transport links
Asia's first intelligent traffic award winner
Growth in the center of intelligent transportation development and the transportation system model
Intelligent Transport overseas exports assistance of the private sector such as strengthening cooperation with overseas cities.
 
TOPIS http://topis.seoul.go.kr