A Center of Asia, Seoul Metropolitan
Seoul has established the most rapid development in world history.
In the process, as Seoul has been established not only economic growth but also qualitative growth, we could gain diverse urban development experience and technical know-hows.
Seoul's a historic graph on growth development stages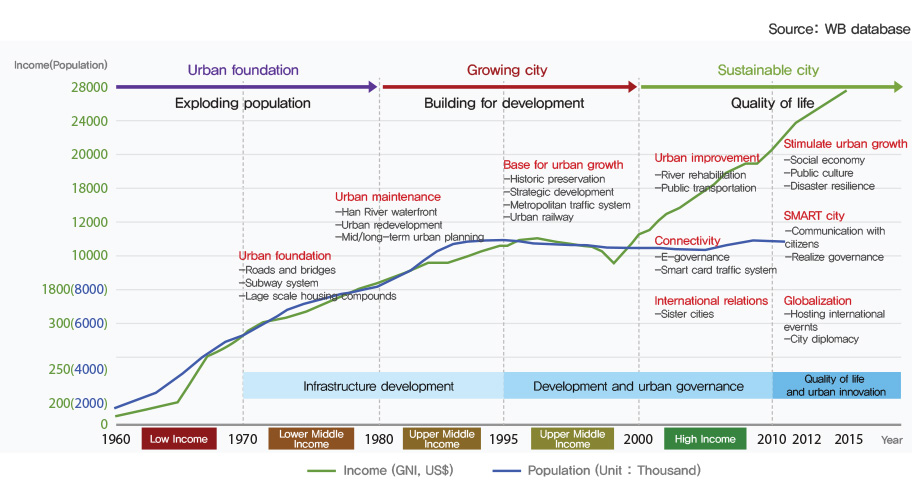 ---
Urban foundation (1960 ~ 1980)
Seoul Built urban infrastructure according to population increase.
Seoul focused financial plan, water management, and stream and river reformation
Main Urban Development Plans : Gangnam development plan(1970), Yeouido development plan (1971)
Main projects : Cheonggyecheon covering(1966), Cheonggye Expressway construction(1967),
Han River Bridges (Yanghwa: 1966, Hannam: 1969), West disposal plant(1972), Subway line 1(1974)
---
Growing City (1980~2000)
Seoul prepared infrastructure for expected population and improved downtown environment on the foundation.
Main Urban Development Plans : Han river comprehensive development projects(1982), Development of Apartment complexes, Han river sewage management(1987), 180 thousands residence construction(1989)
Main projects : Subway line 2, 3, 4 (1984 ~ 1985), separate garbage collection(1992), Bus card (1996)
---
Smart & Sustainable City (2000 ~ present)
Transfer to software-centered policy from hardware-centered policy.
Main Urban Development Plans :

Seoul's e-Government(2000~ Continue),

Seoul e-Government toward Smart City

,

Big Data-based Administration,

2030 Seoul Plan

, Historical Heritage Conservation Projects

Main projects : Online civil service offer (2000), Cheonggyecheon Restoration(2004), Public transportation system reformation(2004), Waste management system of Seoul(2005), Subway screen door(2006 ~ present),

Eco-Mileage System(2008)

,

the 120 Dasan Call Center(2012),

Car Sharing in Seoul (Nanum-Car)(2013)

,

Owl Bus Based on Big Data(2013),

Safer City for Women Project(2013)
Go To SEOUL METROPOLITAN GOVERNMENT Official Homepage
---
Download
Seoul Press Kit_Sync Seoul_2015.pdf.pdf